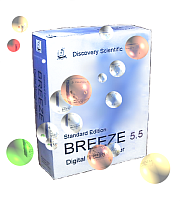 Breeze, Multiple Stream Media Processor, is a software tool operating with streams of video, audio and pictures. It may play, record, convert, replay back and forth video sequences, view and edit images, operates media devices within local computer, via local intra net and the Internet.
User interface of Breeze allows managing media (video / audio) streams, individual images and media devices similarly, in a simple intuitive and uniform fashion. Breeze is a unique and effective tool for a side by side, comparative analysis of video and images in the number of areas such as professional sport, security, scientific, medical, video and photo editing applications.
Breeze supports 100+ video, audio and image formats including AVI, MPEG-1, MPEG-2,MPEG-4, VOB, WMV, ASF, FLV, SWF, MOV, DV, H.264, DivX, XviD, MNG, OOV, MP3, WMA, WAV, JPEG, JPEG-2000, PNG, GIF, TIFF, BMP, 50+ YUV / YCbCr formats.
Breeze also supports the following media devices (video, audio):
Webcams
Digital Video Camcoders (DVCAM)
Video cassette recorders (VCR)
TV tuners
FM radio tuners
Audio capture devices